The Velvet Fist:
Lesbian and Gay Liberation in 1981 Toronto
In addition to my visual work, I am currently researching and writing a novel of historical fiction. The novel is set in 1981 Toronto, and traces political events of that year, as well as the workaday lives of the gay men and lesbians who were involved.
On February 6, just after midnight, 3000 gay men and lesbians, including myself, rioted down the main street of Toronto.  That night, later known as Canada's version of the Stonewall Riots is considered the birth of the LGBT movement in Canada.
The Stonewall Riots occurred twelve years earlier in New York City when, following the arrests of the Stonewall Inn's staff, three drag queens, and a lesbian, a crown threw pennies and bottles at officers, overturned a paddy wagon, and set fires in the street.  This led to multiple days of demonstrations that ignited the LGBT movement in the U.S.
The Toronto riot followed the brutal mass arrest the previous night of 286 gay men by 150 police officers.  The scale of these arrests was unprecedented, except when the Canadian federal government enacted the War Measures Act in 1970.  The arrests occurred at four gay bathhouses.  Despite being offered keys by the management and patrons, the police used sledgehammers and crowbars to smash walls, windows, and lockers.  Gay men were herded outside, into sub-freezing temperature, put into paddy wagons, and taken in for booking under a little used law, "found-ins of a bawdy house" (i.e., prostitutes in a house of prostitution).  During this time, police also used this law to raid homes of individuals whom they suspected as gay.
In the bathhouse, the men were shoved in the shower room, where numbers were written on the backs of their hands.  One officer said, "Too bad these showers aren't hooked up to gas." Another officer pointed to a man's wedding ring and said, "You're going to wish you stayed at home with your wife, faggot."  An arrestee was later quoted as saying that he really understood his parents, Holocaust survivors, for the first time.  
The following night, at midnight, 3,000 gay men and lesbians, including me, rioted.  The riot was fueled not only by the raids, but also by decades of oppression and violence at the hands of the police and fellow citizens.  We were emboldened by the advances that had been made by American lesbians and gay men living in New York City and San Francisco. 
Following the mass arrest of gay men on the night of February 5, 1981, this flyer was typeset and printed the following day. Early in the evening of February 6 runners delivered 4,000 copies to the gay bars, where other runners were waiting to further distribute the flyers. 
Lesbians, gay men, drag queens, and allies gathered at Yonge and Wellesley at midnight on February 6, 1981.  The crowd would swell to 3,000 protestors.
A report the following day in the Toronto Star newspaper. 
In the year that followed, Toronto's newly visible and united gay and lesbian community defied the expectations of the police, society, and its own members, organizing and attending numerous unprecedented political actions and demonstrations. The Right to Privacy Committee was formed, founded a defense fund to aid in court costs of the found-ins, and intervened to stop a conservative newspaper from publishing the names of those arrested. Prior to this, gay men who were arrested often had their names published, leading to ruined careers and relationships, as well as suicides.  
When early requests for an independent inquiry into the police conduct failed, gay pastor Brent Hawkes began a hunger strike to force an inquiry. After twenty-five days, Toronto City Council asked the mayor's community relations advisor to investigate both the bathhouse raids and police relations with the gay community. 
Later in February, 4000 gays and lesbians gathered again to demonstrate against the bathhouse raids. Lemona Lewis, a Black woman whose husband was murdered by the Toronto police, spoke about the dangers of police corruption. This was the first time that someone who was heterosexual and from another minority group stood with us. In March, author Margaret Atwood (heterosexual and famous) lent her voice to our cause, stating at the Gay Freedom Rally that, "I don't see why anybody in a society that calls itself a democracy should have to suffer from institutionalized contempt." Parallel to these rallies and demonstrations, Martin Sherman's play Bent debuted in Toronto. Bent told the story of the persecution and deaths of gay men in Nazi Germany. The play was revolutionary in its time, and was, for most, our first knowledge of this history.
There were numerous other demonstrations that year, against the Ku Klux Klan (which was targeting the gay community in Toronto) and the police.  The Ban the Klan demonstration, found us in an uneasy alliance with other minority groups, who were not eager to be allied with the gay community. Over time, the police became increasingly violent, and were often joined by gay bashers. Notably, only gay and lesbian demonstrators were ever arrested. In response, our community began to offer self-defense classes, and formed a gay street patrol. We wore metal pea whistles on strings around our necks, so that we could sound them if we were attacked. In June, we held Toronto's first Gay Pride Parade.  Following an afternoon of festivities in a city park, 1500 of us stepped out in the light of day for the first time, in front of the media, carrying banners, nosily blowing our whistles, and chanting.
1981 was marked in other ways as well. A suspicious fire shuttered a newly opened lesbian bar, 300 lesbians participated in the first Dykes in the Street march, a serial killer took the life of his 8th gay male victim in 5 years, the court cases for the men charged in the bathhouse raids dragged on, and the community was talking about a new gay cancer.
During the February 20th demonstration, marshals would catch police officers, who were undercover as gay men, using box cutters to slice the banner they were helping carry.
Demonstration at police headquarters on June 20, 1981.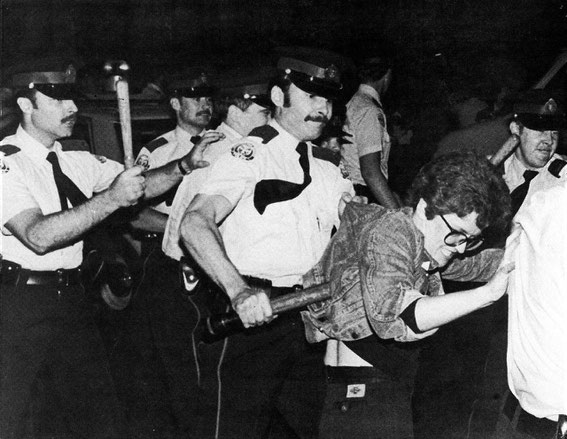 Demonstration at police headquarters on June 20, 1981.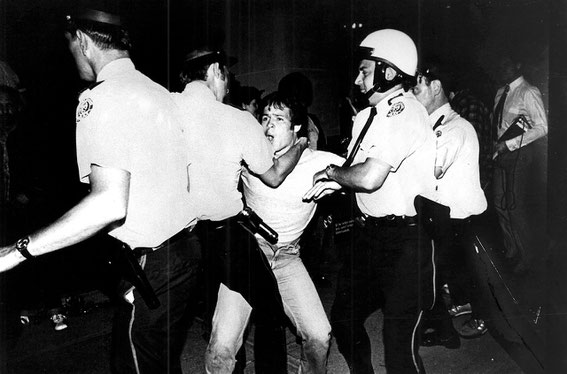 Demonstration at police headquarters on June 20, 1981.
Progress on this project has been made possible by the Canadian Lesbian and Gay Archives, and generosity of interviewees Rosemary Barnes, John Burt, Lawrence Bennet, Bob Gallagher, Amy Gottlieb, Gerald Hannon, Mary Harvey, Brent Hawkes, Ed Jackson, Gary Kinsman, Elinor Mahoney, Tim McCaskell, Pearse Murray, Deb Parent, Ken Popert, Marie Robertson, Gillian Rodgerson, Ron Rosenes, Mariana Valverde, and Tom Warner.
Funding for the research for this book has been provided by the University of Maryland Baltimore County (UMBC) in the form of a College of Arts, Humanities, and Social Sciences Dean's Research Fund award and a Special Research Assistantship/Initiative Support award. Additionally, UMBC's Dresher Center for the Humanities has awarded time and resources for the writing of the book in the form of Dresher Center Faculty Research Fellowship.